For some, when the going gets tough, the tough gas up the custom-painted luxury motorcoach.
So it is with the Wisconsin branch of the Koch-backed group, Americans for Prosperity (AFP), whose four-day, ten-city bus PR event across Wisconsin to support controversial Governor Scott Walker started in Kenosha March 3 and concluded in Madison on March 7 -- but not at the Capitol, where the bus would have been surrounded by the tens of thousands of people gathered to oppose Walker's union-crushing "budget repair" bill. Instead, AFP ended its tour at the Alliant Energy Center, where protesters against Walker's radical proposals who were outside in the cold easily outnumber the pro-Walker crowd in inside the rented space.
And so it went with AFP's "Stand with Walker" Wisconsin road show. At every stop, the AFP PR gambit was met by some supporters, but it was also greeted often by an equal or a substantially greater numbers of opponents. A little-watched YouTube video of AFP's stop at Serb Hall on March 3, 2011 shows a group of about a dozen Scott Walker supporters, and a sidewalk packed with what appears to be about several hundred demonstrators against the governor's extreme proposals.
Classic Astroturf
As we have already reported, AFP is also in Wisconsin with a $400,000 and counting TV ad-buy themed "Who Decides Wisconsin's Future?" in support of Governor Walker. The ad buy has been a subject of two ethics complaints filed with the state's Government Accoutability Board. AFP's "Stand with Walker" bus tour is classic astroturf, defined by SourceWatch as "organizations that appear to be grassroots-based citizen groups or coalitions, but that are primarily conceived, created and/or funded by corporations, industry trade associations, political interests or public relations firms."
AFP certainly fits the bill. By now, it's been widely reported, both within Wisconsin and in prominent publications elsewhere, that AFP was largely inspired by the man who serves as its chairman, David Koch, one of the billionaire brothers who co-own Koch Industries, one of the largest privately-held corporations in the world. AFP also possesses many characteristics indicative of a front group. It avoids mentioning its main sources of funding, engages in actions that benefit a third party, like a company, industry or political candidate. Its members are not its primary financial supporters, though it touts its membership while not revealing its biggest funders. And, last but not least, AFP can afford to send a custom-painted luxury coach on a highly-publicized road trip, even as the price of gas goes through the roof. The "star" of the road show was Ohioan Samuel "Joe the Plumber" Wurzelbacher who gained some degree of notoriety during the 2008 presidential campaign.
PR Disaster on Wheels
Governor Walker has repeatedly attempted to dismiss the hundreds of thousands of protesters who have visited the Capitol over the course of the past month as out-of-towners. Judging from thousands of hand-made signs seen in the crowd around Wisconsin's Capitol building, many people see the billionaire Koch brothers (one lives in New York City and the other in Kansas) and the Washington, D.C.-based AFP as the real "out-of-town" political interference in Wisconsin politics.
Count AFP's road trip as a flop. Below is a selection of media from around the state.
La Crosse Tribune - Hundreds turn out at pro-Walker event -- some in support, more to protest: Several hundred protesters chanted and waved signs Saturday night outside the Radisson Hotel. Inside, about 100 people in a meeting room heard state Sen. Dan Kapanke, Samuel "Joe the Plumber" Wurzelbacher and others express their support for Gov. Scott Walker... "I think (Walker) is basically sending Wisconsin over the cliff with what he is doing," said former La Crosse County Circuit Judge Roger LeGrand of La Crosse. He also is acting chairman of the Wisconsin Tax Appeals Commission, which decides disputes between taxpayers and the state Department of Revenue.
Channel 2 WBAY - Walker Supporters Meet in Eau Claire: Outside officials say about 1,600 people gathered to protest the governor's budget plans. The crowd was so thick one of the Republican representatives scheduled to speak at the pro-Walker event couldn't make it inside. Instead, protesters stopped to ask Representative Warren Petryk questions, with one woman breaking down in tears over her concerns about the budget. "I felt like he listened to me. He said he was going to call Scott Walker," says Rozanna Bejin of Eau Claire. "My request was that Petryk talk to people in the Assembly and the Senate, all of his colleagues, to people sit down and talk to the 14 Democrat Senators who are in Illinois.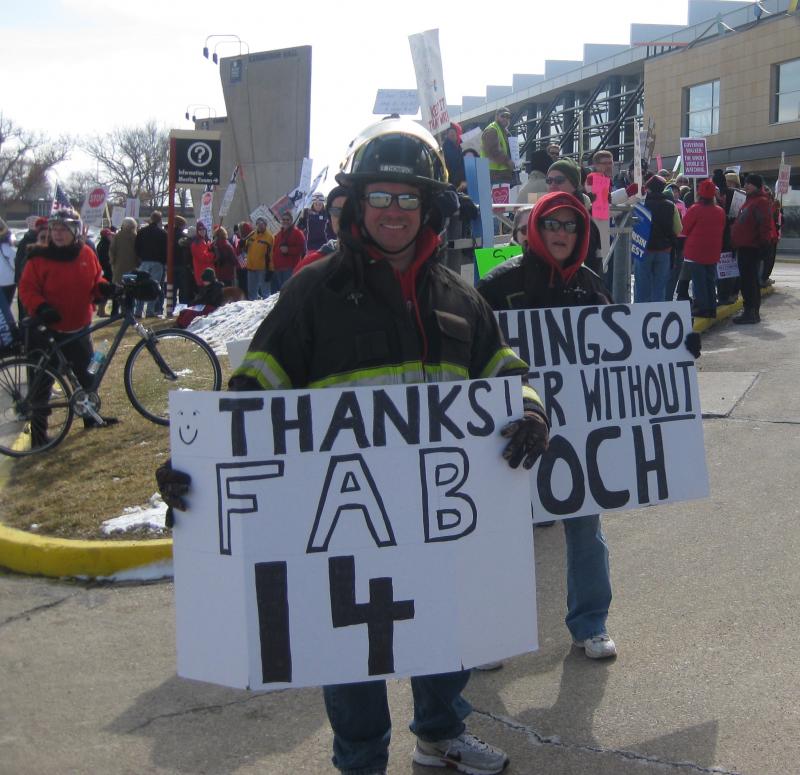 HudsonPatch - Americans for Prosperity's Pro-Walker Bus Tour Stops in Hudson Amid Pro-Union Protests: More than 100 Walker supporters attended a rally at the Best Western Hudson House Inn while more than 300 protesters demonstrated outside.
Wausau Daily Herald - Pro-Walker, Pro-union Rallies Square off at the Plaza Hotel: About 200 people gathered Friday in Wausau to support Gov. Scott Walker ... As the governor's supporters rallied inside, an equal number of union supporters from the Wausau area chanted, waved signs and drew honks of support from passing cars on the sidewalk outside The Plaza Hotel.
Fox 11 - Walker Supporters Hit the Road, Anti-bill Protesters Outnumber Supporters: The group's stop in Ashwaubenon drew local Walker supporters inside the Holiday Inn, and anti-bill supporters outside. "Americans for Prosperity, like, who isn't? I think that they're wrong and their hearts are probably in the right place as well, but I think they're wrong and misguided on what they're doing," explained anti-bill protester from Ashwaubenon, Nancy Daniels.
Wisconsin State Journal - Pro-Walker bus tour ends in Madison as protests at Capitol continue: Outside the Alliant Energy Center, the number of anti-Walker protesters appeared larger than the pro-Walker crowd indoors, a point Seaholm did not contest. Talon Williams, 24, of Madison, a non-union carpet cleaner and anti-Walker protester, called Sunday's Alliant Energy Center rally a last-ditch effort to generate support for a bill the vast majority of Wisconsin doesn't want. "They're trying to create the illusion of grass roots support," he said.
---
The Madison-based Center for Media and Democracy tracks corporate spin and front groups. We are live reporting from the Wisconsin protests daily.Click here to learn more.