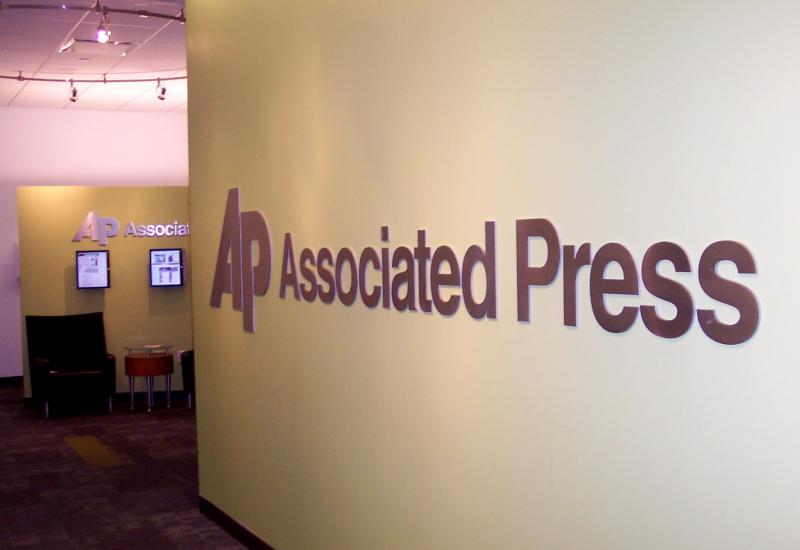 Madison, Wisconsin -- The Associated Press (AP) has been covering the Wisconsin protests this past week, in a way.
With the wave of cutbacks at papers across the nation, big and small circulation papers rely on the AP for wire stories that are re-published in local papers. It describes itself as "the largest newsgathering organization" in the world. With few national outlets having reporters located in Madison or Wisconsin, the AP is a dominant vehicle for sharing information about what is happening in the state with the rest of nation. The AP is also the dominant news feeder for Yahoo News, and Yahoo is now one of the top five most-trafficked websites in the world. So it matters whether the AP is fairly covering the news, in the headlines and in the bodies of its stories. (The Center for Media and Democracy is on record as a strong critic of corporate media, like the AP.)
Here are their headlines since the protests began, on February 15th, along with alternatives:
Tuesday, Feb. 15: AP carried no story about the protests. However, the AP did circulate 130-story headlined: "GOP budget chairman assails Obama's spending plan." The unattributed story consists entirely of the "news" that Wisconsin Congressman Paul Ryan believes that President Obama "punted" on the deficit. The piece basically repeated Ryan's spin from his interview on ABC's Good Morning America, including the posturing that the GOP does "not want to see the government shut down in a fight with President Barack Obama over spending priorities." It quoted no other views besides Ryan's. An alternative might have been "GOP Chairman threatens government shutdown."
Meanwhile, the University of Wisconsin basketball game against the Ohio Buckeyes garnered a 554-word story.
Wednesday, Feb. 15: The protests were mentioned in a story by Kristen Wyatt, who was covering a national teachers' summit with U.S. Department of Education Secretary Arne Duncan. Wyatt wrote "Later, Duncan boosted union members' spirits by promising he'd stick up for them in states where governors have vowed to shut down teachers' collective bargaining rights. Duncan specifically mentioned Wisconsin, where some 10,000 protesters descended on the state Capitol Wednesday to protest Republican Gov. Scott Walker's proposal to all but eliminate the bargaining process for most public employees." That story was titled "Teachers urged to accept changes at summit," referring to changes in pay and evaluations. An alternative might have been, "Ed Secretary Promises to Stand with Unions."
Meanwhile, the University of Wisconsin basketball game against the Purdue Boilermakers garnered a 366-word story.
Thursday, Feb. 17: In an early morning story, the AP publishes a report titled, "Wisconsin Senate to vote on passing bill taking away collective bargaining rights for workers." This story, without a byline filed from Madison, noted that 20,000 people filled the capitol the day before. It summarized the situation thusly: "Wisconsin lawmakers are prepared to pass a momentous bill that would strip government workers of nearly all collective bargaining rights over the loud objections of thousands of teachers, students and prison guards who packed the Capitol for two days of protests." The piece also noted that "The nation's most aggressive anti-union proposal has been speeding through the Legislature since Republican Gov. Scott Walker introduced it a week ago." The story was 195 words long, and fairly but briefly described what was happening. This headline was accurate.
Friday, Feb. 18: The AP starts covering more of the story:
"Wis. assembly speaker plans vote on Walker's bill," a 120 word article noting that 14 Democrats staged a boycott and "escaped" to Illinois and "thousands" had descended on the capitol in the preceding three days. An alternative headline might have been "Democrats boycott plan to strip collective bargaining rights."
"Wis. GOP sends state troopers after Democrat," 134 words, noting that the Republican leader in the Senate asked that state troopers go "after" the Democratic leader of the Senate, Mark Miller, even though the Wisconsin Constitution "prohibits police from arresting legislators while the legislature is in session" to send a message to Miller. The opposite point of view might have been "GOP seeks to intimidate boycotting lawmakers."
"Republicans challenging unions in state capitols," a 1,000-word trend piece putting the Wisconsin battle in the context of nationwide efforts in states with increased Republican control of government offices. An alternative headline might have been "Public employee unions under siege by new GOP leaders."
Saturday, Feb. 19:
"Palin: Wis. unions must be 'willing to sacrifice," a 129-word piece citing only GOP views: that according to Sarah Palin, Wisconsin union members are picking "the wrong fight at the wrong time," that their benefits are "not sustainable," and that everyone needs "to sacrifice." The piece also summarily repeats Walker's talking point that "the concessions he's seeking from public workers are necessary to deal with Wisconsin's projected $3.6 billion budget shortfall." An alternative headline might have been "Palin weighs in on out of state fight over worker rights."
"State budget fights fire up union; Obama involved," a 962-word story filed from Washington, D.C. An alternative headline might not have injected President Obama, who has not been highly engaged in the efforts even though the right-wing has been falsely accusing him of orchestrating the protests in Wisconsin.
Neither of these stories discuss the growing number of protesters, which reportedly hit about 70,000 people on Saturday for this city, which has a population of 250,000 people.
Sunday, Feb. 20:
"Top GOP budget writer seeks negotiations on cuts," another story featuring only U.S. Congressman Paul Ryan's talking points from a Sunday interview show, clocking in at 116 words. It repeats Ryan's line about the national budget that Democrats "will have to negotiate to avoid a government shutdown," and cites no other views. It also doesn't mention the situation in Ryan's home state. An alternative headline might have been easier to write, if the story included any views other than Ryan's. An alternative might have been "Ryan continues to make threats about shutdown."
"Wisconsin governor seizes chance to take on unions," a reasonably thorough story that highlights Walker's claims that the public protests have not changed his mind, and his claim he is "getting 1,000 e-mails an hour, nearly all of which express support," and quoting him asserting the GOP's talking point that "There's a quiet majority out there who want us to do the right thing." An alternative headline might have been "Walker takes a note from Nixon on his 'silent majority'."
"Wis. union head calls on teachers to go to work," 130-word report. This headline is accurate.
"Excuse notes from docs at protests draw scrutiny," a 585-word piece by the AP's stringer, Dnesh Ramde, in Milwaukee focusing for some reason on a few doctors' notes about patients to excuse missed work or classes. This headline is accurate, although the story itself seems lightweight.
"Wis. GOP ups pressure on Dems to return and vote," a 595-word story about Walker's interview on FOX saying he was not going to negotiate, and noting, among other things, that the state Senate would begin votes on non-budgetary items, which it can act on without the quorum needed for spending legislation. An alternative headline might have been "Impasse continues; Walker refuses to negotiate."
And, on Sunday, the AP also filed a 474-word story on the UW's basketball game against Penn State.
The AP's headlines overall emphasize heavily the GOP's point of view, although some of the stories are fairer than others. Three of the stories in this time frame involving the Wisconsin or national budget, however, feature only the GOP's talking points, while none feature only union or Democratic talking points. So who is writing the AP's headlines these days, and why are the AP's editors putting stories on the wire for papers across the country that quote talking points interviews by only one political party in some instances, as with the Ryan and Palin pieces? Especially with online services like Yahoo's, listing only the AP stories as the entry point for readers, the AP's headlines need to be better and in this case not look like they were written by one political party or to favor one side. (The AP, unlike CMD, does not acknowledge having a point of view regarding unions or the corporate agenda as part of its coverage.)
Complaints about the AP's coverage can be made to (212) 621-1500 or via the company's contact form: http://www.ap.org/pages/contact/con... or general email address, info@ap.org. Readers who have been getting these headlines reprinted in their local newspapers can contact those local newspapers with any complaints about the biased headlines or about GOP talking points masquerading as news, as with the stories on statements by Ryan and Palin.