Contact:
John Stauber, Executive Director, Center for Media and Democracy
608-260-9713
(NOTE: This info is updated at: https://www.prwatch.org/node/6329)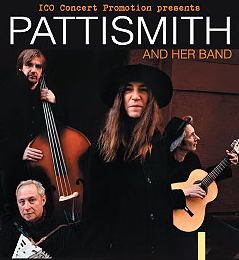 Beat poet, writer, punk rock legend and Rock And Roll Hall of Fame member Patti Smith and her band will crank it up this Sunday, August 5, 7:30pm, in Madison, at the Barrymore Theater. Their appearance will benefit the work of the Wisconsin-based Center for Media and Democracy (CMD).
Hundreds of Smith fans packing the theater will have an opportunity to bid on items in a silent auction, with auction proceeds fully supporting the work of CMD.
"Smith and the Center are a great fit," said Madison promoter Tag Evers of True Endeavors who arranged the pairing. "Patti is an artist with a powerful commitment to the truth, peace and human rights activism. CMD's main mission is exposing corporate and government propaganda as in their books Weapons of Mass Deception, Trust Us We're Experts and Toxic Sludge Is Good for You.
Smith is donating a number of signed items to the auction but the premier auction offering is a 1958 Gibson LG-1, #T6122 5 acoustic guitar with a written appraisal of $700. It will be signed by her at the event. A fifty-year old Gibson guitar is a fitting auction item since Smith's very first guitar was an L-00 Gibson acoustic made in the 1930s. Of her own Gibson she has said, "I bought it in 1971 and I still have it. It's the guitar I write most of my songs on. It's my most precious guitar."
John Stauber, founder and executive director of CMD, notes, "The guitar Patti will sign for our auction was donated by our Director of Information Technology Tricia Barden, who herself is a heck of a rock guitarist. It's been a favorite of Tricia's for decades; she was thinking of selling it, but decided to donate it for Patti to sign and benefit CMD.
Stauber founded the Center in 1993 and was the sole employee for years, running it with part-time help from his colleague and co-author Sheldon Rampton. In 2003, their book Weapons of Mass Deception: The Uses of Propaganda in Bush's War on Iraq became a New York Times best seller and they decided it was time to grow the organization. Today, CMD has a salaried staff of nine, most based in Madison but others located in Colorado, DC, and Australia. Among its programs are http://www.PRWatch.org, http://www.SourceWatch.org, http://www.Congresspedia.org, and http://www.StopFakeNews.org.
"CMD does not accept grants from corporations, government agencies, or labor unions; we have to raise our entire budget from individuals and foundations each year, so we especially appreciate this opportunity to benefit from Patti Smith and her artistry," said Stauber.
Bidding on the Patti Smith autographed Gibson guitar will begin at $750, with a reserve price of $1,000. If bidding does not reach $1,000 at the concert it will be opened up to a larger audience over the Internet.