By Jessica Mason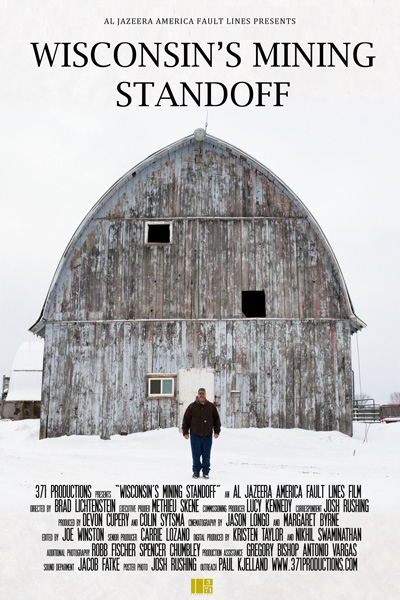 Since 2011, a fight has been raging over a proposed open pit iron mine in northern Wisconsin. While supporters of the mine claim that it would bring several hundred jobs to the economically challenged northern counties, others worry about the environmental impacts of a massive open-pit mine, including the Bad River and Red Cliff Bands of Lake Superior Chippewa, whose tribal lands would be affected.
Many Wisconsinites have also been angered by the apparent influence of big money and out-of-state corporate interests on legislation related to the mine. Mining interests donated millions to Wisconsin Republicans who pushed for new mining legislation, including Governor Scott Walker and state Senator Alberta Darling, co-chair of the committee through which the mining bill had to pass. The Center for Media and Democracy has previously reported on the lack of transparency surrounding new mining legislation and on the role of the Koch-backed astroturf group Americans for Prosperity (AFP) in creating "grassroots" support for the mine. Earlier this year, The Progressive reported on AFP's attempts to influence a local election in Iron County by attacking candidates on the mining issue.
Now audiences all around the state will have a chance to view "Wisconsin's Mining Standoff," a documentary about the proposed mine's potential impacts and how recent legislation has affected Wisconsin's mining laws.
Produced by Milwaukee's 371 Productions, the documentary premiered on Al-Jazeera America's investigative documentary program, "Fault Lines," on June 14, 2014.
The following screenings have already been announced, all open to the public:
Thurs, July 24 – Ashland, WI – Northern Great Lakes Visitors Center, 7pm
Tues, July 29 – Milwaukee, WI – Urban Ecology Center Riverside Park, 7pm
Weds, Aug. 13 – Madeline Island – Tom's Burned Down Cafe, 9pm
Thurs, Aug. 14 – Mellen, WI – Mellen Library, 7pm
Sun, Aug. 17 – Montello, WI – MORE Healthy Foods Cafe, 4pm
Thurs, Aug. 28 – Milwaukee, WI – St. John's on the Lake, 3:30pm
Weds, Sept. 10 – Janesville, WI – Basic Natural Foods, 6:30pm
Tues, Sept. 16 – Superior, WI – UW-Superior Manion Theatre, 7pm
Tues, Sept. 23 – Eau Claire, WI – UW-Eau Claire Woodland Theatre, 7pm
Tues, Oct. 28 – Beloit, WI – Beloit College (venue TBD), 7pm
Keweenaw Bay Indian Community, MI – TBD
La Crosse, WI – TBD
Menominee County, WI – TBD
Stevens Point, WI – TBD
UW-Milwaukee screening – TBD
West Bend, WI – TBD
More information about the screenings is available at 371productions.com.