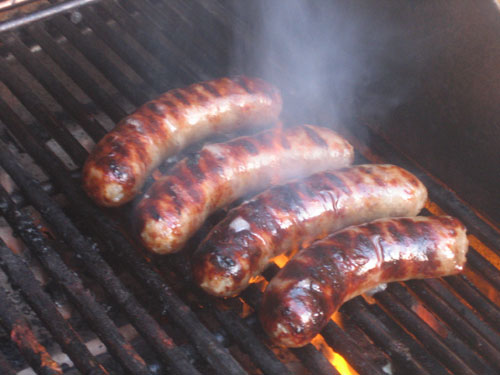 The "World's Largest Brat Fest," which will take place over Memorial Day weekend at Willow Island at the Alliant Energy Center, will serve brats donated by Johnsonville Sausage of Sheboygan Falls, WI. Johnsonville owners (the Stayer and Stayer-Maloney families) and other principals of Johnsonville Sausage contributed a total of $48,450 to Scott Walker's gubernatorial and other 2010 Republican state campaigns, according to the Wisconsin Democracy Campaign's Campaign Finance Database.
This prompted Madison activists like Sam Hokin to call for a boycott of Johnsonville and other corporations that contributed to Scott Walker. Tim Metcalfe, president and co-owner of Metcalfe's Market and organizer of the "World's Largest Brat Fest," issued a statement on March 20th that "Brat Fest has, and continues to be, truly apolitical... My hope is that these traditions and civil accord can continue."
On May 29th -- the same weekend as the World's Largest Brat Fest -- people will also have the option of choosing brats and other food made by local restaurants, with ingredients coming from local farms, and music by local bands, at the near east side's Orton Park. Joey Dunscombe, chef at the Weary Traveler Freehouse, who is organizing the "Alt Brat Fest" along with his sister-in-law Carrie Dainty, will be serving chicken wings, while other local restaurants -- Alchemy Café, Underground Meats, Natt Spil, and possibly Stalzy's (a new deli about to open on Atwood Ave.) -- will serve sausages made with meat from The Goose Chaser Farm in Paoli, Wisconsin, and Jordandal Farms in Argyle, WI. In addition, from 1:00 - 5:00 p.m., festival goers can enjoy music from local musicians Josh Harty, Taki All-Stars, Screamin' Cyn-Cyn & the Pons and DJ Jeremy Thomas. There will be 400 tickets sold, with discounts issued for arriving by mass transit or bicycle. Money raised will benefit Community Shares and Friends of Orton Park.
Sam Hokin and Kathy Barton have also organized a "Virtual Alternative Brat Fest" without any actual sausages, local or not. "Visitors" of the online fest, which started March 6th, contribute the money they would spend on brats to Second Harvest Foodbank of Southern Wisconsin. At the time of writing, the website has raised $2,385 for Second Harvest.