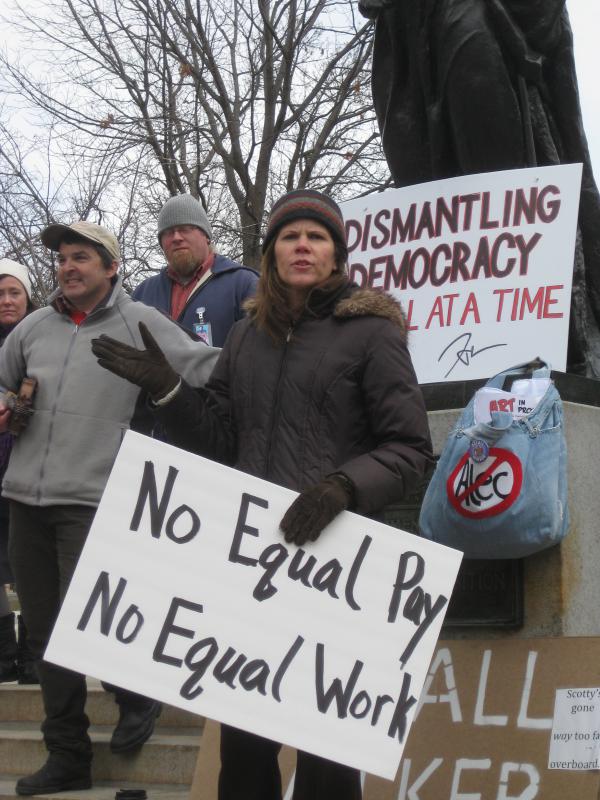 Late in the evening, on February 22, the Wisconsin Legislature turned back the clock gutting key provisions of Wisconsin's Equal Pay Enforcement Act (Act 20).
Rep. Chris Taylor (D-Madison), a long time women's rights advocate lamented: "It's like we're going back to 1912. We are fighting the same fight our mothers fought, just to be treated equally."
Senate Bill 202, authored by Senator Glenn Grothman (R-West Bend), passed on a party line vote. According to the Wisconsin Alliance for Women's Health, Act 20 sought "to secure equal pay for the thousands of working families who are denied fair pay due to wage discrimination based on race and gender." Specifically, the act was intended to deter employers from discriminating by opening an avenue to bring discrimination cases in state court with stiff penalties. Previously, victims were required to pursue lengthy administrative remedies through a state agency. SB 202 removed the compensatory and punitive damages for violations of Act 20, leaving it a toothless tiger.
Grothman argued that Act 20 "created a lengthy, complex, and unnecessary new set of procedures that put Wisconsin businesses at greater risk for frivolous lawsuits." He said that Act 20 "was opposed by the very businesses and employers Wisconsin is counting on to help turn our economy around." The long list of businesses lobbying on behalf of the repeal can be found here.
"This is the Last Straw"
When the surprising news of the bill's passage reached the public, protests were quickly organized. Heather DuBois Bourenane organized a noon speak out at the capitol. She told CMD that "this is the last straw. They talk about small government but they want to legislate every aspect of our daily lives, the hypocrisy is infuriating."
Rep. Taylor addressed the large crowd of over 100 and pointed out that women in Wisconsin now make, on average, 79 cents for every dollar their male counterparts make. "That's $4,000 a year that families are deprived of." She pointed to the slow but steady progress made after the Equal Pay Enforcement Act was passed, "we went from being the state with the 36th worst pay gap to the 24th." Now she fears the state is turning back the clock.
"We don't want for our daughters what we want for our sons?"
The debate on the floor of the Assembly got heated, although nearly every speech was given by Democrats speaking against the bill. Minority Leader Rep. Peter Barca (D-Kenosha) was dismayed: "I am mystified as to where this thinking comes from, that we don't want for our daughter what we want for our sons."
Rep. Kelda Helen Roys (D-Madison) challenged the argument that the Equal Pay Enforcement Act had been used frivolously. "Not a single lawsuit has been filed under the Equal Pay Act since it became law in 2009; however, since it became law, the median earnings for women have risen three percent."
Anne Lyttle, who heard about the protest on Facebook, came because she's "been seeing a pattern of using excuses to push bad legislation. By repealing this protection we're allowing corporations to create jobs we don't want. We don't want jobs that don't offer equal pay."
Now that the bill has passed the Assembly, only the signature of Governor Scott Walker is needed before it becomes law.
UPDATED 4/16/12: Governor Scott Walker signed Senate Bill 202 into law on Thursday, April 5, 2012.