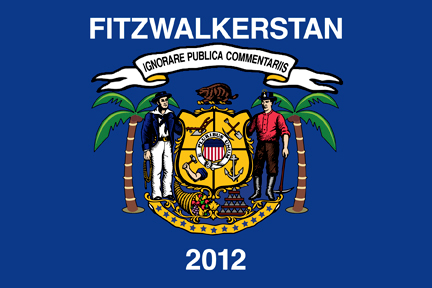 It was just another balmy-frigid February 28 for Andrea Musher. She stood outside the Wisconsin State Capitol with a green parasol, a pink frangipani, and a sign with palm fronds rising forth.
Madison's former poet laureate, Musher was one of about 25 protesters who gathered on what they called "Palm Tuesday" to celebrate the emergence of a new Wisconsin state tree, which could be dubbed the "O'Reilly Palm."
The event commemorated the anniversary of the day Fox News ran video of violent "Wisconsin" protesters, with palm trees waving in the background. Musher's palm was intended to help people understand that Fox "pretends to be a news source. Instead they are a source of propaganda and fabrication."