The people of Missouri and Indiana were, in effect, given a referendum on "legitimate rape" on election day, and they soundly rejected the concept by defeating U.S. Senate candidates Todd Akin and Richard Mourdock. The two legislators had stirred controversy over their verbal attempts to characterize the validity of a rape victim's experience in order to push forward their anti-abortion agendas.
The extremists lost badly, while a historic number of women swept into the U.S. Senate, turning the tide in the "war on women." The Obama campaign's heavy focus on women's issues for the past year appears to have paid off with CNN reporting an 18-point gender gap nationally this election, more than his 12-point gender gap in 2008.
Akin's Extreme Stance on Abortion Haunted His Campaign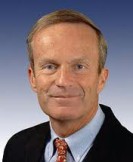 In mid-August, U.S. Senate candidate Todd Akin kicked off a media firestorm when he stated that it is "really rare" for a woman to get pregnant from what he dubbed "legitimate rape." "The female body has ways to try to shut that whole thing down," he opined while attempting to make the case that no abortion exception was needed for rape and incest. Initially, the GOP scrambled away from him hoping to get him to drop out of the race. GOP strategist Karl Rove made a joke about killing Akin and Paul Ryan called the comments "outrageous" and countered Akin saying "rape is rape," failing to mention the fact that he co-sponsored a bill with Akin, which in its original form said that only victims of "forcible rape" would qualify for federally funded abortions.
Karl Roves's Crossroads GPS, a "dark money" group and his American Crossroads SuperPAC, pulled ads from the state after Akin's comments. But the state's GOP came to his aid spending $700,000 in an ad campaign in support of Akin. "Now or Never" SuperPAC poured $1 million into the Akin campaign the week before the election. The PAC is almost entirely funded by a Las Vegas based nonprofit with a similar name that does not disclose its donors.
In attempts to woo female voters after the fallout, Akin decided to feature a rape survivor who had an abortion in one of his ads. A "Women for Akin" bus tour featuring Phyllis Schlafly, president of the anti-abortion, anti-equality in marriage group Eagle Forum, rolled across the state in hopes of closing the gender gap. Apparently the women of Missouri were unimpressed.
Official unconfirmed election results have McCaskill defeating Akin 55 percent to 39 percent. Of the women who voted in this race, 57 percent voted for McCaskill, as opposed to 37 percent for Akin.
Mourdock: "God Intended" for Children Conceived by Rape
In the wake of Akin's comment came further controversial statements from the Tea Party-backed Richard Mourdock, the Indiana State Treasurer and Republican nominee for U.S. Senate. During a debate, Mourdock said he opposes abortions in response to pregnancies conceived in rape because "even when life begins in that horrible situation of rape, that it is something that God intended to happen."
Following the remarks, Romney tried to distance himself from Mourdock by saying that his views don't align with the Senate nominee, but noted that he still supports him. Romney had cut an ad in support of Mourdock that began airing on the same day that Mourdock made the comment. This was one of the few ads Romney cut for Senate candidates. Obama's campaign effectively used the Romney ad as fodder for a radio ad campaign targeting women voters nationwide.
Shortly after Mourdock statement, Club for Growth, founded by Stephen Moore, a "scholar" at the Koch-funded American Legislative Exchange Council (ALEC), came to the rescue with a $300,000 ad buy.
Mourdock's opponent, Joe Donnelly, is also anti-abortion, but supports abortion in cases of rape, incest and when the mother's life is threatened. Unconfirmed official election results have Donnelly defeating Mourdock 50 percent to 44 percent.
Of the women that voted in this race, 52 percent voted for Donnelly and 42 percent voted for Mourdock.
Collateral Damage, Mandel Lost Race in Ohio
Ohio State Treasurer Josh Mandel lost his race against U.S. Senator Sherrod Brown. Mandel was also against exceptions for rape and incest, and refused to comment or condemn Mourdock. The next day he dubbed Mourdock a "class act" for apologizing for his extreme remarks.
Unconfirmed official election results have Brown defeating Mandel 50 percent to 45 percent. An exit poll found that 56 percent of Ohio voters think abortion should be legal "all or most of the time."
Of the women that voted in this race, 56 percent voted for Brown, as opposed to 41 percent for Mandel.
Voters Sweep Women into Office
Not only were extremists roundly rejected this election cycle, but the tide was turned in the "war on women" with the decisive elections of at least 19 women to the U.S. Senate, the most ever in U.S. history. New Senators included Republican Deb Fischer (Neb.) and Democrats Tammy Baldwin (Wis.), Mazie Hirono (Hawaii) and Elizabeth Warren (Mass.) who will join re-elected incumbent Sens. Maria Cantwell (Wash.), Dianne Feinstein (Calif.), Kirsten Gillibrand (N.Y.), Amy Klobuchar (Minn.), Claire McCaskill (Mo.) and Debbie Stabenow (Mich.)