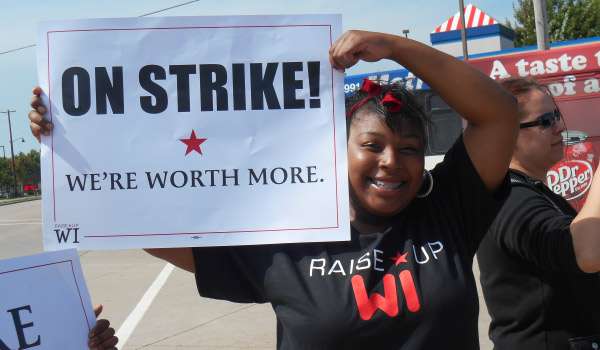 MADISON -- The chant "come on out, we've got your back!" echoed through the air at Taco Bell as peaceful protesters took the "Fight for 15" directly to the fast food giant, calling on workers to walk off the job.
Protesters were targeting McDonald's, Wendy's, and Taco Bell with more than 150 actions across the nation. Taco Bell is owned by YUM! Brands. With $13 billion in annual revenue, the top five YUM! executives received $30 million in compensation in 2013. That is not what their workers are making in Madison, however, where the minimum wage is $7.25 an hour.
Four workers at the Taco Bell walked off the job Thursday along with strikers at other locations in Madison. Billy Williams was one of them. "McDonalds and Taco Bell have a new commercial almost every night," said Williams. "If they have all that money for commercials, they have a few extra dollars to pay us $15."
With wins in major cities like Seattle, which passed a $15 minimum wage earlier this year, the Fight for 15 movement is spreading across the nation.
Newly elected State Representative Lisa Subeck addressed the crowd and put the wage issue in perspective.
"The average price for a two bedroom in Madison is $898.00 a month," she said. "Do you know how long you would have to work every week at minimum wage to afford that? 95 hours a week!" Subeck, who has long worked on homeless issues, says her calculations were based on data from the National Low Income Housing Coalition. An appropriate wage for the Madison housing market is $17 an hour the data suggests.
Strikers in Madison and Milwaukee were backed by religious leaders, prominent politicians, and community leaders. In Madison, Rabbi Renée Bauer led the rally while friends and allies and even the former state banking commissioner looked on.
In Milwaukee, Congresswoman Gwen Moore was arrested with fast food workers in an act of peaceful civil disobedience.
Protesters held signs saying "We Are Worth More" and Rep. Moore echoed the sentiment: "I see their drive to fight for a future that is equal to their talents and worthy of their dreams." Seven were arrested in Madison; twenty six people were arrested in Milwaukee.
Madison's rally took place a mere block away from where a small child was killed as her mother wheeled her down the street at 3 a.m. having been kicked out of her temporary lodging. Her mother has been charged with reckless homicide and neglect.
State Representative Melissa Sargent spoke for many when she said, "Every child needs a healthy meal and a safe home. Anyone working 40 hours a week deserves to live the American dream."
Sargent noted that minimum wage doesn't just affect communities and families, it impacts taxpayers too. "More than half of fast food workers are on public assistance programs. This costs the state of Wisconsin alone $160 million a year."
The cost nationwide for taxpayers to subsidize low wage employers is some $7 billion, say economists. The recent study by the University of California, Berkeley concluded that 52 percent of fast-food workers rely on programs, such as SNAP or Medicaid, to survive since few fast food workers are offered health care coverage or the protection of a few days of paid sick leave.
Madison was one of about 150 cities with protests scheduled for Thursday. Arrests were reported in dozens of other cities, including New York, Chicago, Detroit, and St. Louis.
For Billy Williams there was some satisfaction in walking off the job that day "we have guys from the corporate office behind the counter today, and they are not very good at it," he said with a grin.