As newsrooms across the country have cut staff reporters -- due in part to slipping ad revenue and corporate media conglomeration -- the Franklin Center for Government and Public Integrity has rushed to fill the gap, as the Center for Media and Democracy (CMD) has documented. The Franklin Center has 40 state news websites, with reporters in 34 states so far. Its reporters have received state house press credentials and its stories appear as news in mainstream print newspapers in each state without alerting readers to the heavy right-wing bias of the Franklin-related publications.
Franklin Center Quadruples in Size, Adjusts Strategy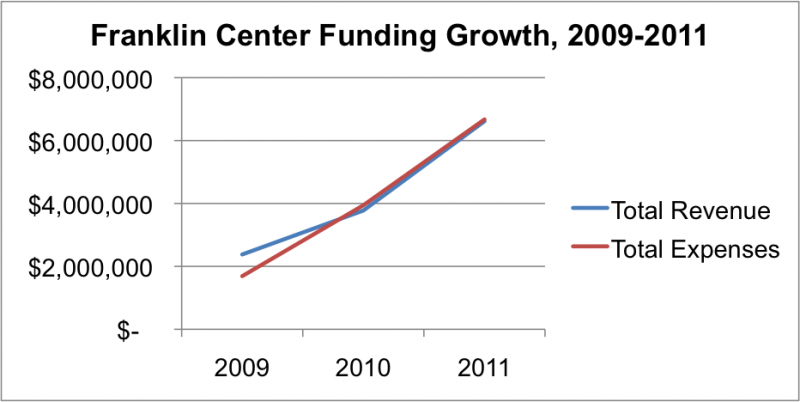 The Franklin Center does not disclose its funders. But based on a review of the annual IRS filings of foundations that fund groups like Franklin, as of 2011 (the most recent available financial data), 95 percent of the group's funding comes from DonorsTrust and Donors Capital Fund. These two related entities are "donor-advised funds" that were spun off by the Philanthropy Roundtable and cloak the identity of donors to right-wing causes across the country. Mother Jones has called the combined Donors funds "the dark-money ATM of the conservative movement." The Franklin Center received the Donors funds' second-largest donation in 2011. Among the most prominent funders of Donors is the Knowledge and Progress Fund, a Charles Koch-run organization, which contributed nearly $8 million from 2005 to 2011. The Franklin Center has also received funding from the Lynde and Harry Bradley Foundation and Searle Freedom Trust. As CMD has previously reported, the Franklin Center received a startup grant from the Tea Party Sam Adams Alliance, run by Eric O'Keefe, who also helped launch American Majority and sits on the board of Club for Growth Wisconsin.
From its founding in early 2009 to the end of 2011, the Franklin Center's revenues have grown almost fourfold, from $1.7 million in 2009 to $6.6 million in 2011. In an unexpected twist, however, the number of statehouses in which it placed reporters declined slightly from 41 in 2010 to 34 in 2013. Franklin Center Executive Director Jason Stverak did not respond to CMD's requests for comment on this trend.
According to Trent Seibert, former editor and founder of Franklin affiliate Texas Watchdog, the Franklin Center "announced last year they would not be supporting independent journalism operations in 2013." This means they are no longer funding organizations such as Seibert's, which was founded in 2008 before the Franklin Center itself, and over which editorial control was exercised by Seibert himself rather than the Franklin Center. Without that funding, both Texas Watchdog and the Nevada News Bureau have folded.
But there are now 20 "Watchdog Bureaus" operated directly by Franklin -- including one writer in Texas to replace Seibert's crew -- and 20 "Watchdog Partners," according to a May 2013 Franklin Center document obtained by CMD. "Watchdog Bureaus" operate as a direct part of Franklin, with reporters and bureau chiefs listed as staff of the center. They are located in Colorado, Florida, Hawaii, Illinois, Iowa, Kansas, Minnesota, Missouri, Montana, Nebraska, New Jersey, New Mexico, Ohio, Oklahoma, Oregon, Pennsylvania, Tennessee, Texas, Virginia, and Wisconsin. That includes the big five swing states of the 2012 election: Florida, Ohio, Virginia, Wisconsin, and Colorado (which was the tipping point state). And it includes two of the more important secondary swing states: Pennsylvania and Iowa. North Carolina, another swing state, is covered by a "Watchdog Partner."
Franklin Funds Right-Wing Think Tanks and Other Groups
As the Franklin Center's revenues have increased, flush with cash from the secret billionaires at DonorsTrust, it has spread the wealth more lavishly to other ideological groups. In 2009, when its revenues were $2.4 million, it spent less than $96,000 -- or four percent -- on grants to the Lucy Burns Institute (whose ties to this network CMD has documented), the Small Business Hawaii Foundation (an associate member of the State Policy Network (SPN)), and the online state news website Maryland Reporter.
In 2011, with revenues of $6.6 million, the Franklin Center spent more than $1.1 million -- or almost 17 percent -- on grants, ranging from $994,000 to Cause of Action and Freedom Through Justice Foundation (Cause of Action's former name) to $7,500 to Rhode Island Center for Freedom and Prosperity (an SPN member think tank).
Cause of Action: "The Most Active Nonprofit You've Never Heard of"
Cause of Action is a non-profit organization primarily focused on legal work and claiming to use "public advocacy and legal reform tools to ensure greater transparency in government, protect taxpayer interests and promote economic freedom." Its executive director, Dan Epstein, worked for controversial Republican Congressman Darrell Issa (R-CA) in the investigation of the Association of Community Organizations for Reform Now (ACORN) as Counsel for Oversight and Investigations at the Committee on Oversight and Government Reform for the U.S. House of Representatives.
In its early days, one of Cause of Action's first targets was ACORN. Since then, it has been called "the most active nonprofit you've never heard of."
Cause of Action has gone to bat for socially liberal as well as conservative causes. It has represented a lesbian couple in California who wanted to start a family by using a donor they knew; and represented Oregon Windfarms in a lawsuit concerning a Chinese-owned company's attempts to set up a wind farm in Oregon, which was blocked by President Obama. It has also been a main supporter of the Drakes Bay Oyster Company's lawsuit against the federal government, Interior Secretary Ken Salazar, for refusing to renew the company's lease of the public lands on which it operates. The organization's position is that these are all instances of unconstitutional government overreach.
But whatever the organization's positions, the Franklin Center claimed on its 2011 form 990 that it gave Cause of Action nearly a million dollars "for journalism." Cause of Action did not respond to CMD's requests for a description of its reporting or journalistic work. It operates what it calls a blog; and it issues Freedom of Information Act (FOIA) requests, resulting in targeted complaints. In June 2013, it changed its mission statement on its website to add that it "uses investigative, legal and communications tools to educate the public on how government transparency and accountability protects economic opportunity for American taxpayers."
Funding State Policy Network Think Tanks and Others to "Dig up Dirt on the Left"
As CMD has reported, the State Policy Network is a web of advocacy and news spinning operations in each of the states. It is a prominent ally of the American Legislative Exchange Council (ALEC), funded by the Koch brothers and DonorsTrust, among others. Like ALEC, SPN and its affiliates seek to change state laws, but report little or no lobbying, as CMD has documented in its reporters' guide to the Goldwater Institute.
The relationship between SPN affiliates and ALEC is strong and is funded by some of the same donors. That means that some corporate interests like the Kochs get, in effect, multiple votes to change the law on ALEC task forces, where corporate lobbyists and special interest groups like SPN operations vote as equals with elected officials behind closed doors. (The Franklin Center has also funded ALEC, as CMD has reported.)
SPN's legislative agenda Is frequently buttressed by its forays as "press" and the echoes of its allies in the growing right-wing state "press" corps at the Franklin Center and in groups like MediaTrackers. That is another news-like non-profit launched in 2011 in Wisconsin and other states, sponsored by the tea party group American Majority, to "dig up dirt on the left" rather than purportedly be "on the receiving end of damaging stories developed by liberal groups such as Media Matters and the Center for American Progress."
Franklin has funded SPN member think tanks -- including the Rhode Island Center for Freedom and Prosperity, the Tennessee Center for Policy Research, and Louisiana's Pelican Institute -- and SPN associate members -- including the Small Business Hawaii Foundation. It has also funded American Majority, again "to support journalism." For more, see recipients of Franklin Center funding at CMD's SourceWatch.org.
Concerns Raised about Franklin's Brand of Free "News"
Dave Zweifel of the Capital Times and the Wisconsin Freedom of Information Council said this about Franklin in 2011: "This outfit masks itself as an investigative journalism service that provides free content to newspapers, many of which are cash-strapped these days, and eager for such a product. ... You have to give these guys credit for capturing the moment when the press is particularly vulnerable."
Laura McGann, assistant editor at the Nieman Journalism Lab at Harvard University, wrote in 2010, "As often as not, their reporting is thin and missing important context, which occasionally leads to gross distortions," pointing to several instances where the Watchdog websites wrote stories that turned out to be misleading or untrue. "This sort of misleading reporting crops up on Watchdog sites often enough to suggest that, rather than isolated instances of sloppiness, it is part of a broad editorial strategy."
The Franklin Center continues to grow and shift, as the stories it funds are picked up by more cash-strapped state and local newspapers. In the meantime, its funding of advocacy groups -- like Cause of Action and ALEC allies in the State Policy Network -- indicate that its goals extend further than creating right-wing news. Is funding these groups another part of Franklin's "editorial strategy," or does it reveal the part its funders wish it to play in molding pro-corporate policy state by state?
---
The progressive advocacy organization Keystone Progress recently published a report on the Pennsylvania Franklin Center affilate, Pennsylvania Independent -- "Driving the News: How Right-Wing Funders Are Manufacturing News and Influencing Public Policy in Pennsylvania" -- available here.