The National Federation of Independent Business (NFIB) "I Built My Business" astroturf bus tour started rolling through Wisconsin this week in support of Republican candidates for office. NFIB advertises itself as the nonpartisan "Voice of Small Business," but CMD's new web resource NFIBexposed.org presents a wealth of facts that challenge that assertion.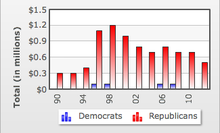 Despite claiming to be non-partisan, NFIB's lawsuit against the 2010 federal health care reform bill was bankrolled by Karl Rove's Crossroads GPS. In the 2012 election cycle, 98 percent of NFIB's direct political contributions have been in favor of Republican candidates or against Democrats. According to the latest data available on OpenSecrets.org NFIB has spent $3,304,168 on independent expenditures in the 2011-2012 cycle: $1,113,791 against Democrats and $2,190,377 for Republicans.
The bus tour launched yesterday in Green Bay with a poorly attended photo opportunity for Republican U.S. Senate Candidate Tommy Thompson, one of the many Republican candidates NFIB is supporting in this cycle. According to OpenSecrets, an NFIB affiliate, NFIB The Voice of Free Enterprise, Inc., has spent $25,000 in support of Thompson and $24,000 in opposition to his opponent, Tammy Baldwin. The group does not disclose its donors, and the cost of the bus tour has not yet been disclosed.
After stopping in Oshkosh the tour will move on to six other states "in promotion of a campaign designed to provide a megaphone for the voices of the men and women of Main Street, and further amplify the critical role of the small-business community in our nation's economy." However, the glitzy "wrapped bus" is a classic sign of an "astroturf" operation, a synthetic grassroots movement that is heavy on money but short on people, attempting to portray itself as genuine.
Lori Compas, the executive director of the newly formed Wisconsin Business Alliance (WBA), a local small business alliance formed as an alternative to big business groups like the NFIB and the U.S. Chamber of Commerce, responded to the tour: "While the NFIB might represent a small fraction of independent U.S. business owners, the NFIB itself is hardly independent. It appears to be dedicated to furthering a partisan agenda."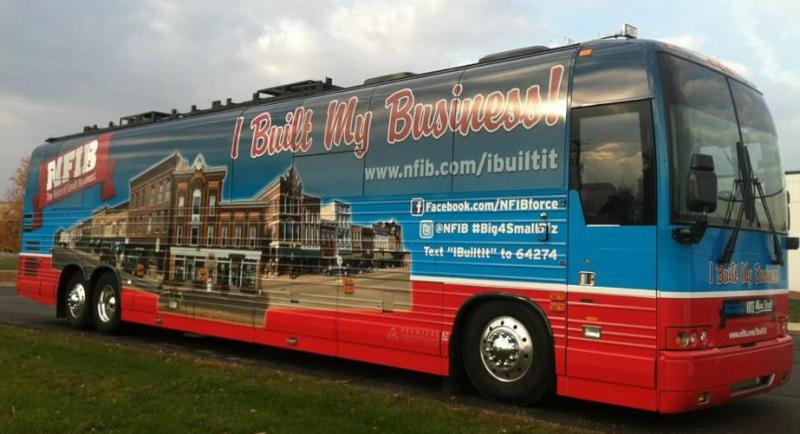 The tour's name is an attempt to capitalize on awkward phrasing used by President Obama in a July speech where he was explaining the role of public infrastructure (bridges, roads, sewage, etc.) in aiding businesses large and small. Compas said that it is time to "get past these 'gotcha' phrases so we can talk about what's really best for business."
The bus tour will focus on key races and swing states:
Tuesday, October 23rd: 9:00 AM CT, Rockford, IL
Wednesday, October 24th: 10:00 AM, Indianapolis, IN; 3:00 PM, Ft. Wayne, IN
Thursday, October 25th: 10:00 AM, Lima, OH; 3:00 PM, Bowling Green, OH
Friday, October 26th: 11:00 AM, Sidney, OH; 3:00 PM, Vandalia, OH
Monday, October 29th: 10:00 AM, Butler, PA; 1:00 PM, Pittsburgh, PA
Tuesday, October 30th: 9:00 AM, Lynchburg, VA; 2:00 PM, Harrisonburg, VA
Wednesday, October 31st: 9:00 AM, Richmond, VA
Thursday, November 1st: 1:00 PM, Tallahassee, FL
Friday, November 2nd: 10:00 AM, Ocala, FL; 2:00 PM, Orlando, FL
Saturday, November 3rd: 12:00 PM, Tampa Bay, FL
Sunday, November 4th: 1:00 PM, New Smyrna Beach, FL
To find out more about who NFIB really represents, check out NFIBexposed.org.