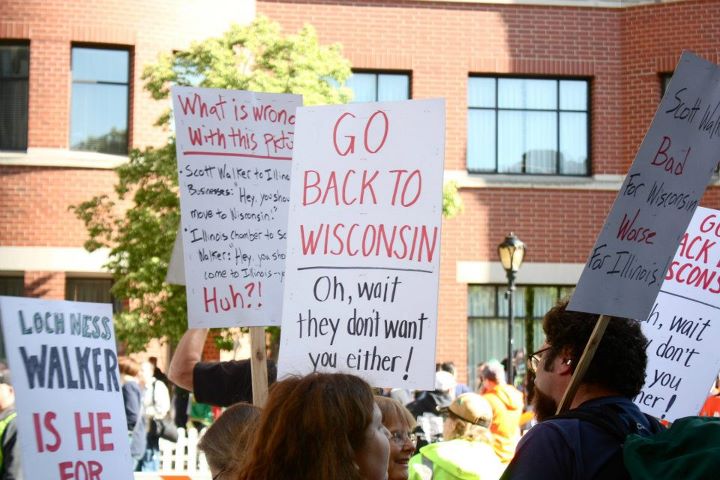 Wisconsin's Governor Scott Walker was in Illinois, speaking to the Illinois Chamber of Commerce on April 17, and a huge crowd of protestors was there to "unwelcome" him.
While Walker compared himself to Honest Abe on the inside of the Lincoln Hotel in Springfield, an estimated 4,000 workers rallied on the outside. Props included a giant rat and a large Walker image on a board imprinted with the words "don't Badger us."
Anders Lindall, a spokesman for the American Federation of State, County and Municipal Employees explained the surprisingly large turnout against their neighbor to the north's governor: "This is a community show of support. What Walker has done in Wisconsin is really a war on workers. It's an attack on the middle class." Speakers denounced Walker's efforts to poach jobs from Illinois and mocked his jobs record. Since Walker took office last year, Wisconsin has lost more jobs than any other state according to federal data, although the state's unemployment rate has gone down.
Phil Neuenfeldt, the president of the Wisconsin AFL-CIO brought a message of solidarity from Wisconsin to Illinois: "We want shared prosperity, not just sacrifice from working families."
Equal Pay Day Bittersweet after Legislative Losses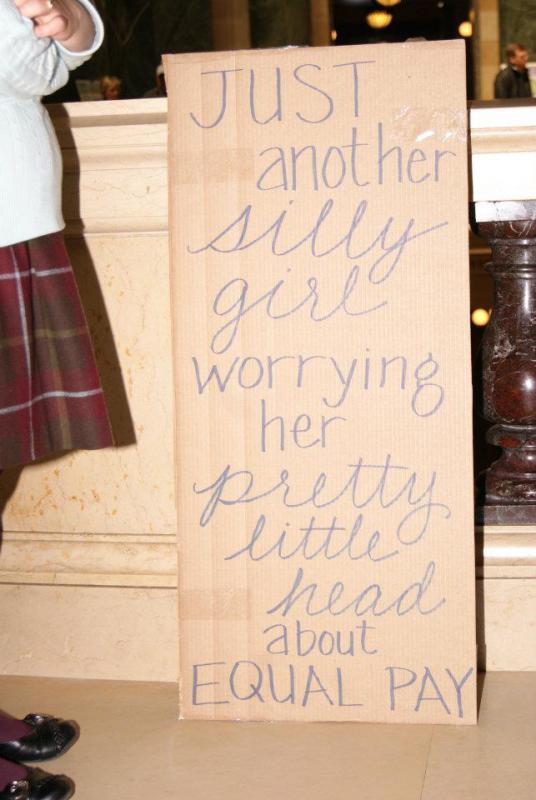 Meanwhile, Wisconsin women gathered at the Wisconsin State Capitol to celebrate "Equal Pay Day." Equal Pay Day is a national event that represents the date in the current year through which women must work to match what men earned in the previous year. The event was started by the National Committee on Pay Equity in 1996 as a public awareness event to draw attention to the wage gap between men and women doing the same job.
Equal Pay Day got extra attention this year in Wisconsin because of a series of bills targeting women that passed the legislature and were signed into law by Walker. One of those bills repealed parts of the Equal Pay Enforcement Act, making it harder for women to go to court in order to ensure they are paid equally to their male counterparts for their work.
Equal Pay for Equal Work: Some Day Soon!
Women gathered inside and outside of the Capitol to express their anger and frustration. Linda Roberson, a Madison lawyer and former attorney for the Legislative Reference Bureau, addressed the crowd of a few hundred and highlighted the severity of the situation. "A right without a remedy isn't really a right," she said. She pointed out that almost half a million women in Wisconsin are the sole breadwinners for their families, and that altogether women in Wisconsin lose $10 billion dollars a year because they are paid on average only 77.8 percent of what their male counterparts are paid. She concluded with the comparison, "a woman who votes for the Republican Party is like a deer joining the NRA, they've got us in their sights."
Lauren Fahey, a graduate student at UW-Madison School of Social Work criticized the Republican leadership for having the wrong priorities. "Why did the Assembly and Senate prioritize this when they're supposed to be creating jobs?" she asked the crowd. "Pushing women out of the workforce is not a legitimate job creation mechanism."
Sara Finger the Executive Director of the Wisconsin Alliance for Women's Health said, "myself and my two year-old daughter deserve better than this." She reminded the women in the rotunda that the average lifetime wage gap between men and women was $438,000, and that on average women earned $11,000 less than their male counterparts in a year. Finger emphasized that with recent attacks on women's health, this pay equity gap was a "demoralizing attack" and jeopardizes many women's financial stability, and their ability to pay for adequate healthcare.
Headliners at the rallies included long-time women's advocates Melissa Sargent, a Dane County supervisor and candidate for Assembly, Rep. Chris Taylor, and Rep. Kelda Helen Roys, who is currently running for Congress in the 2nd Congressional District. These are just some of the women who have been inspired to run for higher office since the Wisconsin Uprising of 2011. Kathleen Falk, former Dane County Executive, and State Senator Kathleen Vinehout are running against Walker in the recall election scheduled for June 5. Tammy Baldwin is running for U.S. Senate, and three of the four Senate recall challengers are women. The pattern holds true for state and county races in the Madison area, leading some to believe that 2012 may be Wisconsin's "Year of the Woman."
The event was wrapped up with a rendition of the civil rights standard "We Shall Overcome," the words of the final verse changed to say: "Equal pay for equal work, some day soon!"