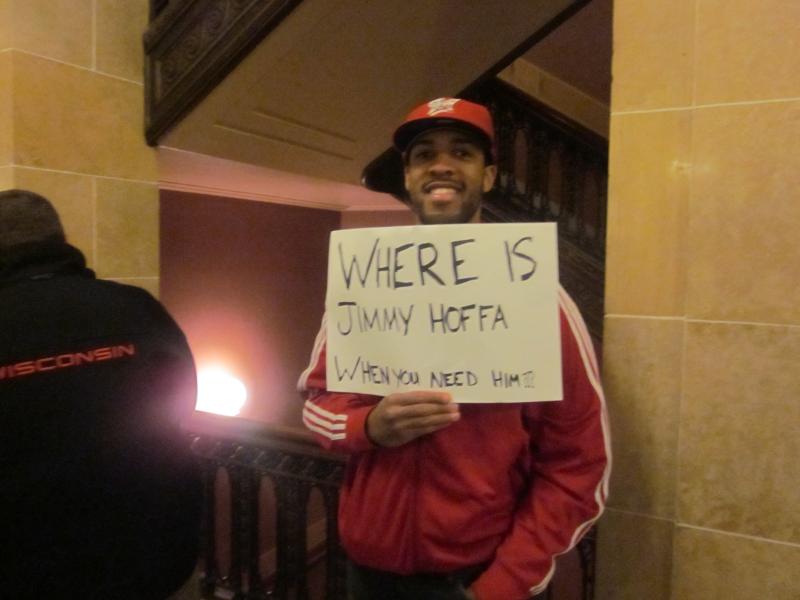 On the first day protesters occupied the Wisconsin Capitol building a young man held a sign, "Where is Jimmy Hoffa when you need him?" Well, International Brotherhood of the Teamsters President James Hoffa rolled into town today with a group of Wisconsin Teamster members to lend support to the Capitol protesters. Three members I spoke to were UPS drivers, private sector workers lending support to public sector nurses and teachers. I asked Hoffa about the news this morning that Governor Scott Walker had been caught on tape with a blogger who he thought was David Koch, of Koch Industries, specifically about Walker's comments that he would "crank up" pressure on the workers with layoff notices. "We'll announce Thursday, they'll go out early next week and we'll probably get five to six thousand state workers will get at-risk notices for layoffs. We might ratchet that up a little bit too," says Walker on the call.
Hoffa's reaction? "It's despicable. That a politician like Walker would tamper with the lives of public employees, real people with real families, in order break the unions show's that he will stop at nothing. It makes it clear that his goal is really destroying collective bargaining. He just wants to get his way. He doesn't have to do that. He doesn't have to do that. The budget here is not in desperate straits. Plus, AFSCME has put a good offer on the table, they are willing to make concessions, but when he days 'I don't give a damn' it proves that he isn't as interested in balancing the budget as destroying the union. It's ruthless."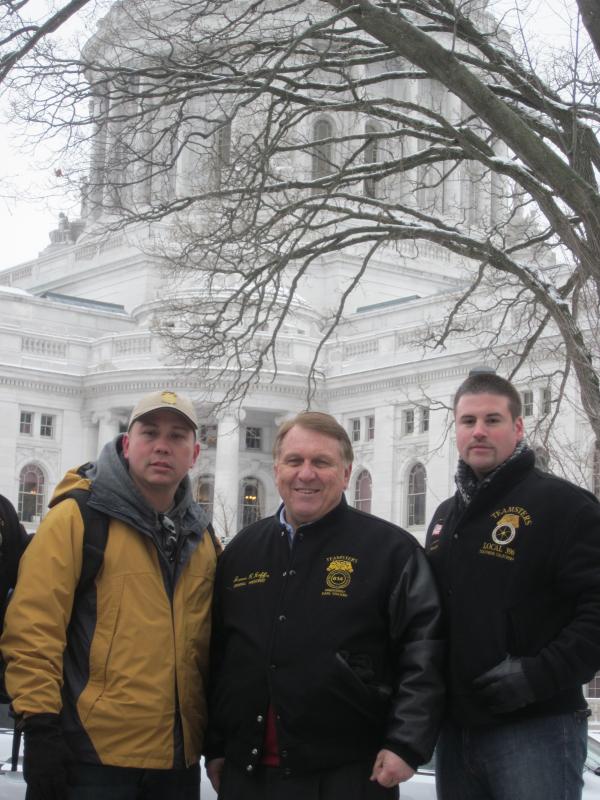 When asked who caused the economic problems of U.S. states, Hoffa replied, "We know who did it! Wall Street did it! They are trying to rewrite history now, where budget problems are caused by teachers and day care workers. But we remember who sent our jobs overseas. We know what a derivative is, who bought them and sold them and all about options and puts. We know about the bailouts of the big banks and whose idea it was. It was Hank Paulson's idea (U.S. Treasury Secretary under George Bush). Now they are going to blame teachers and nurses for all that? Shame on them."
Janesville resident and retired Teamster Dave Selk accompanied Hoffa with many other Teamsters from Southeast Wisconsin. Selk spent 35 years loading and unloading new cars onto trains a the JATCO company in Janesville. "The Janesville auto plant made Tahoes and Suburbans and we loaded them onto trucks then onto trains and shipped them all over the United States and the world," Selk explained. Selk is the oldest of nine children and he explained how his close knit family was broken apart when the Janesville auto plant closed. Two brothers had to move to Texas and Illinois to find new work. "I remember when America used to be the world's market place." said Selk sadly.